---
Defiance House
Anasazi Ruins

Lake Powell
Forgotten Canyon

Defiance House is named after the warrior pictographs on the cliff above the ruin. Defiance House was occupied by Anasazi (Ancestral Puebloans) from approximately A.D. 1250 to 1285. It is believed that the structures were occupied by one or two extended families of 15 to 20 people. Please take only pictures and leave only footprints.
General Information:


The only reasonable way to reach Defiance House is by boat. The most popular Lake Powell Marina's to boat from are Bullfrog and Hall's Crossing. This is a very popular destination for boaters and tourists on lake Powell so expect to find crowds in season.
The time required to boat from the marina and visit the ruins makes a nice day for most people in a ski boat. A GPS is useful in verifying you are on the correct route and in locating specific ruins. The USGS 7.5' Map titled "Knowles Canyon" shows the area described. Navigation for this route is easy. All Defiance House waypoints and maps use the WGS84 datum.
I know the National Park Service likes to promote these ruins as lightly restored, but they really look nothing like they did when I first visited them in the mid 1970's. If these ruins are lightly restored I wonder what heavily restored ruins look like. Honestly, without a lot of restoration and maintenance these ruins would now be nothing but a big pile of rocks with a pictograph above them from the amount of visitation they receive. Anyhow, restored or not, Defiance House makes for a wonderful Lake Powell Destination.
Route Information:
Defiance House is located in Forgotten Canyon on Lake Powell. Forgotten Canyon is located approximately 12 miles upstream from Hall's Crossing Marina (approximately 13 miles upstream from Bullfrog Marina). Forgotten Canyon is the third canyon on the right (east) upstream from Hall's Crossing. Forgotten Canyon is located at Channel Marker 106 (N37° 33' 30", W110° 37' 43"). There is a pump-out station at the mouth of Forgotten Canyon.
Boat up Forgotten Canyon about 3/4 mile to a junction. The canyon on the right (south) contains a small Anasazi Granary (N37° 33' 02", W110° 36' 45") you can see the granary from the water, binoculars will prove useful for viewing. After visiting the granary you will want to boat up the left (north) fork. After 1/4 mile you will reach a second junction. Take the right (south) fork and continue upstream approximately 1 1/2 miles to Defiance House (N37° 32' 49", W110° 35' 12").
How close you can boat to Defiance House is depends on the lake level. When the lake is above 3650' you can boat to the base of the ruins. When the lake is extremely low the hike to the ruins can be up to 2 miles each way.
History:
The Glen Canyon area was probably on the outskirts of Ancestral Puebloan settlement. No large communities were built in this area, but a few small cliff dwellings and other archeological sites have been found. Defiance House is one of the best-preserved Ancestral Puebloan dwellings in Glen Canyon National Recreation Area. Defiance House was discovered by archeologists in 1959. Exploring the area before Lake Powell was created, University of Utah archeologists followed a dangerous hand-and-toe-hold trail up the sandstone cliff and were delighted to find an Anasazi site where "most of the roofs were still in place, and two perfect red bowls still had scraps of food in them." They named the site "Defiance House" for the large pictograph (rock painting) of three warriors brandishing clubs and shields.

Defiance House was occupied from about 1250 to 1285 AD. No one knows why the Ancestral Puebloans built in such an inaccessible place. The site is protected from the elements in the winter, and it is shady and cool in the summer. Or perhaps it was a place of refuge, easily defensible high in the cliff. Were the three defiant warriors painted on the cliff wall to warn potential enemies? Perhaps we'll never know. Nor do we know why the Ancestral Puebloans abandoned Defiance House. Drought, food shortages, enemies, or overuse of the land could all have contributed to the exodus.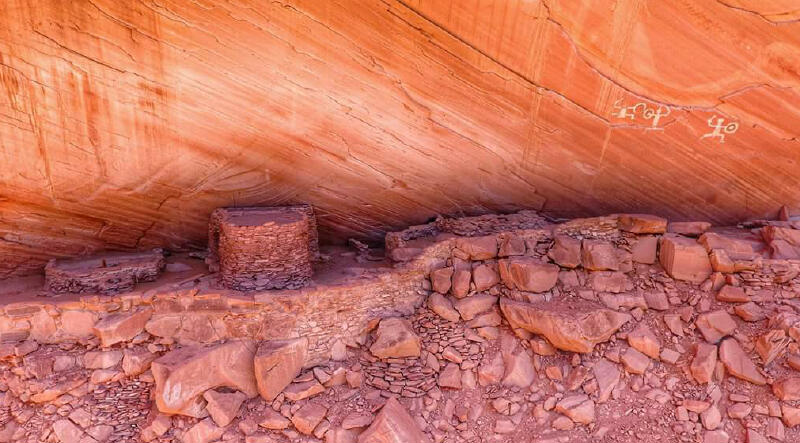 Please take only pictures and leave only footprints.
---
[ Homepage ] [ Introduction ] [ Warning ] [ Ratings ] [ Ethics ] [ Feedback ] [ Updates ]
© Copyright 2000-, Climb-Utah.com