[ Homepage ] [ Introduction ] [ Warning ] [ Ratings ] [ Ethics ] [ Feedback ] [ Updates ]
---
Great White Icicle
Little Cottonwood Canyon
Technical Canyoneering

It's a hot summer day with temperatures expected in the high 90's. Looking for a cool diversion from the hot Salt Lake City Valley? The Great White Icicle is a fun, multi-pitch rappel route down a beautiful waterfall located in Little Cottonwood Canyon.

The Great White Icicle is a popular WI3 rated winter ice climb. By doing the ice climbing route in reverse this becomes a pleasant summer canyoneering route.
General Information:
The Great White Icicle is a technical canyoneering adventure in summer. The route has flowing water and a northern exposure. This adventure will require 4 to 5 hours to complete. You will need two 50-meter ropes. I recommend carrying several slings, 50 feet of webbing, and several rappel rings. A helmet and daisy chain are also suggested.

The route is difficult to locate without a GPS unless you are an ice climber familiar with the climb, even than the route looks much different in summer. You will be wading and rappelling through waterfalls for a couple of hours. A wetsuit or dry suit is suggest except for very hot days (90 degrees plus). A group size of four or less is recommended. There are several semi-hanging rappel stations where four will be a tight squeeze. Navigation for this adventure is very difficult without a GPS to locate the first rappel point. Great White Icicle is rated 3C II using the Canyon Rating System. This is an involved canyoneering route not intended for beginners.

Please do not place new bolts or anchors on this route in summer. The Great White Icicle is a very popular ice climbing area and anchors misplaced in summer could become deadly in winter. Ice climbing anchors are often placed to avoid ice fall and not necessarily placed in the ideal location for rope management.

Trailhead Information:
From I-15 in Sandy, Utah take Exit #298 (9000 South) and head east on Highway 209 (9000 South) for 6.9 miles at which point Highway 209 joins Highway 210 (Little Cottonwood Canyon Road) at a Y-Junction. All mileage in this canyon is measured from this Y-Junction. The junction is identified be a huge flashing message board on the south side of the road and a park and ride lot on the north side of the canyon. The park and ride lot has a restroom.

From the Y-Junction at the mouth of Little Cottonwood Canyon drive up canyon 1.9 miles and park near the old power plant on the right (south) side of the road. (N40° 34' 16", W111° 44' 33").

Now would be a good time to walk a short distance up Little Cottonwood Canyon Road and view the Waterfalls. The entire route is visible from the road. The first rappel anchor is located in the trees at the top of the waterfall.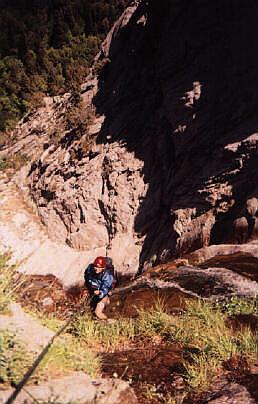 Route Information:
Walk behind the old power plant and cross Little Cottonwood Creek and join the Temple Quarry trail. Hike down (west) the Temple Quarry trail 40 yards to a hiker made trail joining from the left (N40° 34' 15", W111° 44' 36").

Follow the hiker made trail uphill (south) to a large granite face (N40° 34' 08", W111° 44' 31") with several bolted climbing routes running up the center. Pass the large granite face on the right (west) side and continue along the hard to follow hiker made trail up the gully. If the gully is really steep, bushwhacking and miserable hiking than you are in the correct place.

From the trailhead to where you need to exit the gully you must gain approximately 900-feet. Having a method of measuring altitude gain is very useful. The idea is to reach an elevation slightly above the waterfall, which is located in the next drainage east. Once you have reached the correct elevation cross the small ridge into the next drainage east. You will know you are in the correct spot if you are above the waterfall at a small meadow with a large log in the middle (N40° 34' 03", W111° 44' 27"). Route find downstream through thick brush to the first rappel point (N40° 34' 05", W111° 44' 30"). The rappel station is located on the right (east) side of the stream.

The first rappel is 50' from a thick pine tree to a stance at the lip of the waterfall.

The second rappel is 105' from a shaky pine. Rappel through the falls to a steep corner on the left (west) side of the stream flow. The 2-bolt anchor for the third rappel is up high in a very awkward position. We extended this anchor with 40' of webbing to improve the rope pull and stance. This created an easy rope pull.

The third rappel is 140' down slabs on the left (west) edge of the stream flow. The fourth rappel point is a very small stance tucked into a corner on the left (west), don't miss it. This is a semi hanging stance.

The fourth rappel is 165' to a nice flat pillar on the right (east) side of the canyon. Rappel through the stream flow to the top of the pillar. This is a nice flat spot to take a break and enjoy lunch.

Descend 40' (3rd class) over the nose of the pillar to find the two bolt anchor overlooking the stream below.

The fifth rappel is 160' to third class ledges on the left (west) side of the stream flow. You will rappel near an awkward bolt station used by ice climbers, don't stop there.

Descend downstream (3rd class) to a large granite boulder perched on the edge of the last drop. Use caution in the last 20' before reaching the anchors since a slip would be very bad. Belaying the first person and than spotting those who follow is suggested.

The sixth rappel is 50' down the waterfall to the canyon floor. From the base of the last rappel follow the hiker made trail 35 yards west to the base of the large granite face with several bolted climbing routes which you hiked past earlier. Follow the hiker made trail out to the road.

Related Link:
Ice Climbing - Little Cottonwood Canyon
---
[ Homepage ] [ Introduction ] [ Warning ] [ Ratings ] [ Ethics ] [ Feedback ] [ Updates ]
© Copyright 2000-, Climb-Utah.com